Cherish the joy of Indian festivity by the festivals of Rajasthan, sanctified Ladakh, picturesque Kerala, spirited Kullu, scenic Sikkimand other countless Indian destinations.
India is blessed with vast cultural diversity which is uncomparable to any part of the world. You can witness and participate in many festivals throughout the year. Some are celebrated all over India and some are celebrated in different States. Different festivals are celebrated in different colourful costumes and traditions. Some of the most popular festivals amongst westerners are Pushkar Fair, Nagaur Fair, Desert Festival in Jaisalmer and Elephant Polo in Jaipur Rajasthan. KulluDusshera in KulluManali and AlmoraDusshera in Uttaranchal. Snake Boat Race in Kerala backwaters. Some of the Festivals like Deepawali and RakshaBandhan are celebrated throughout the country.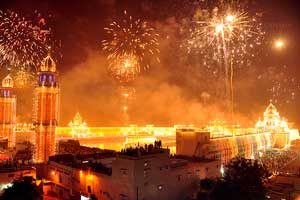 Deepawali
Deepawali is held in October-November every year and celebrated all over India. This Festival is celebrated for the victory of God over evil. People celebrate this festival with lights,fire crackers and sweets.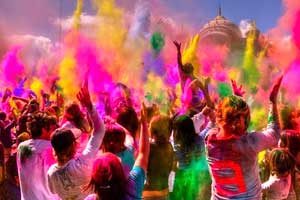 Holi 
This is widely celebrated in North India during March. This festival signals the end of winter and beginning of spring season. Festival is celebrated with different colours.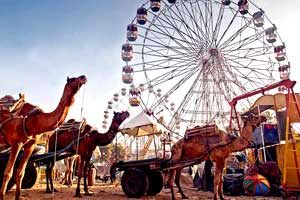 Pushkar Fair 
It's a world famous festival for its huge and colourful Camel Fair. Festival is held normally in the month of November during KartikPoornima. Pushkar is an important religious town for Hindus where thousands of pilgrims come to bathe in the holy the holy water of Pushkar Lake. During this period town is thronged with tribal people from all over Rajasthan, pilgrims from all over India, film makers, photographers and tourists from all over the world.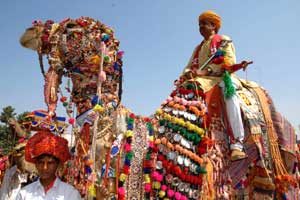 Nagaur Fair 
This festival is held in Jan-Feb. During this time Nagaur awakens to bustling life every year with thronging of cattle, horses and camels accompanied by their turbaned owners and eager buyers. The day starts with buyers and sellers engaged in earnest bargain and the day close with fun, festivity like camel race and other games. It creates a joyful atmosphere with the setting sun in the background.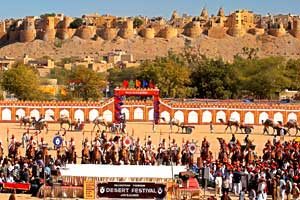 Desert Festival in Jaisalmer
This festival is also held in Jan-Feb in Jaisalmer. Some chosen and cherished monuments of its glorious past and rich culture are on display. The traditional dances accompanied by high pitched music on instruments take the folk dancers one step back into time.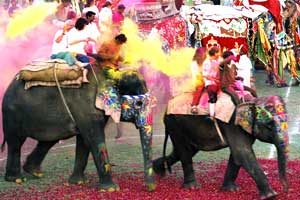 Elephant Festival, Jaisalmer
This festival is held in Jaipur in March-April. The elephants stride majestically parading their decorated trunks and tusks. Festival begins with a procession of elephants, camels and horse followed by folk dancers at their entertaining best.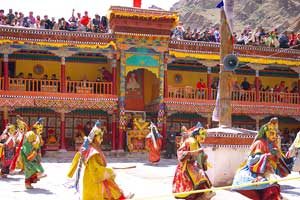 Hemis Festival in Ladakh
This is one of the biggest festival of Ladakh which is held in June-July at Hemis Monastery. It's a 2 days festival where Lamas perform sacred masked dances leading to the destruction of sacrificial offerings.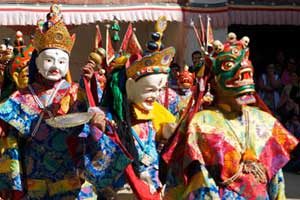 Karsha Festival
It's a festival of Victory of Black Hat dancers over evil. The festival is held in Jul -Aug every year at Karsha Monastery in Zanskar.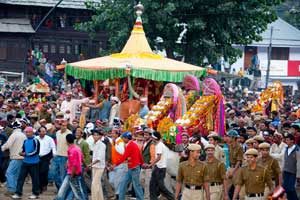 Kullu Dusshera Festival
This festival is celebrated for a week every year in October . Traditionally over two hundred deities converge on Kullu to pay homage to Lord Ragunath while music and colour fill this Silver Valley . Numerous stalls offer a variety of local wares. Fork music and dance troupes dressed in colourful costumes perform a medley of folk dances and sashes, swords and bells.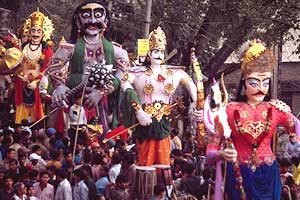 Almora Dusshera Festival
This festival is held like Kullu Festival but only for one day with great festivities. It is just held on the day of Dusshera to celebrate victory of good over evil depicting victor of Lord Rama over Demon Ravana.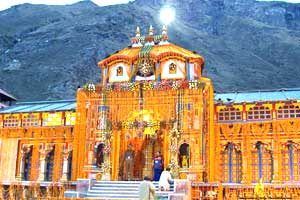 Temples Opening and Closing Festivals
Each and every Holy Shrines of Uttaranchal like Gangotri, Yamunotri, Badrinath and Kedarnath have a special opening and closing ceremonies. Opening Ceremony is held at the time temple opens in summer for pilgrims and Closing Ceremony is held short before winter.
RathYatra in Puri
This festival is held in Jun – July in Puri which is best known for Jagnnath temple. The festival is celebrated with worship the Lord Vishnu who is carried in RathYatra or chariot.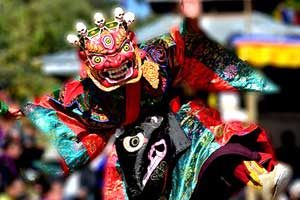 Pang Lhabsol 
This festival in unique which is celebrated in September to pay homage to the 3rd highest peak Mt. Kanchenjunga which is considered as the guardian deity of Sikkim and to Yabdu. Festival is held in Tsuklakhang Monastery with war like costumes of the dancers. Prayers are offered to invoke Kanchenjunga and Yabdu for peace and prosperity.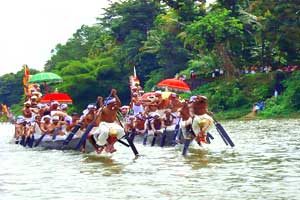 Boat Race
Boat Race is the popular festival in Kerala and Nehru Trophy Boat Race in Allepey near Cochin is most popular festival. Race is conducted on second Saturday of August every year that commences with a ceremonial water procession. The songs participants sing are known as Vanchipattu and they have distinctive vigorous rhythm. Thousands of spectators on either banks cheer the competitors.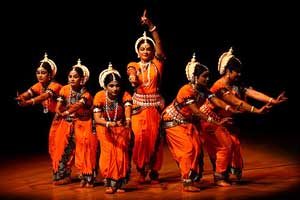 Soorya Dance festival 
This is the festival of classical dance conducted in October every year in Trivandrum. Renowned dancers from all over India participate in this festival. The dances that can be watch are Kathakali, Mohiniyattam, Bharatnatyam, Kuchipudi, Odissi, Manipuri etc.